Installation of glass partitions and workshop-type glass roofs in your offices
Isospace accompanies you in your project of installation of transparent glass partitions from A to Z.
Contact us for a free quote
Glass and Transparent Partitions in Your Offices
Need toinstall glass partitions in your new premises? Create a glass roof in your current offices? Or do you want to let more light into your space by replacing your movable partitions with transparent ones?
You are in the right place! Since 1997, Isospace has been assisting you in the supply and installation of glass partitions and glass doors in your professional spaces. We make your plans, advise you on the transparent partition that suits your needs and install it in your offices, in your ERP or in your showroom.
The main types of office glass partitions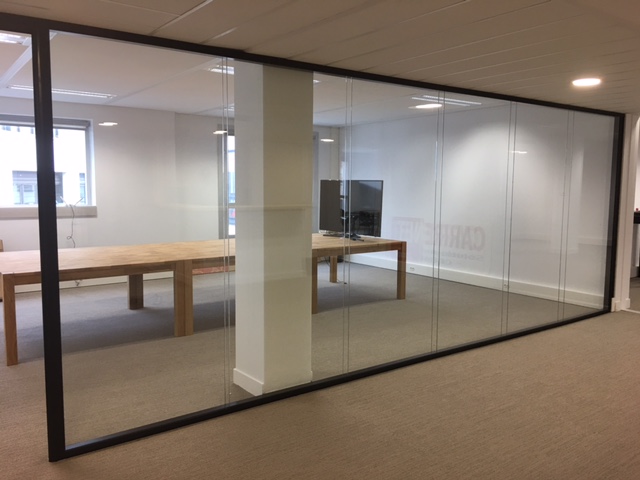 Edge-to-edge glass partition
The edge-to-edge glazed wall is a type of wall where the edges, i.e. the ends, are glued to each other, thus avoiding the need for an additional aluminium frame.
The main advantage of this full-height partition is of course its aesthetic appeal. Single or double glazed, this product can be customised with glazing. Edge-to-edge glass partitions can be equipped with Clarit glass doors, glass doors with aluminium frames or a simple wooden door.
The edge-to-edge partition is increasingly used in office design.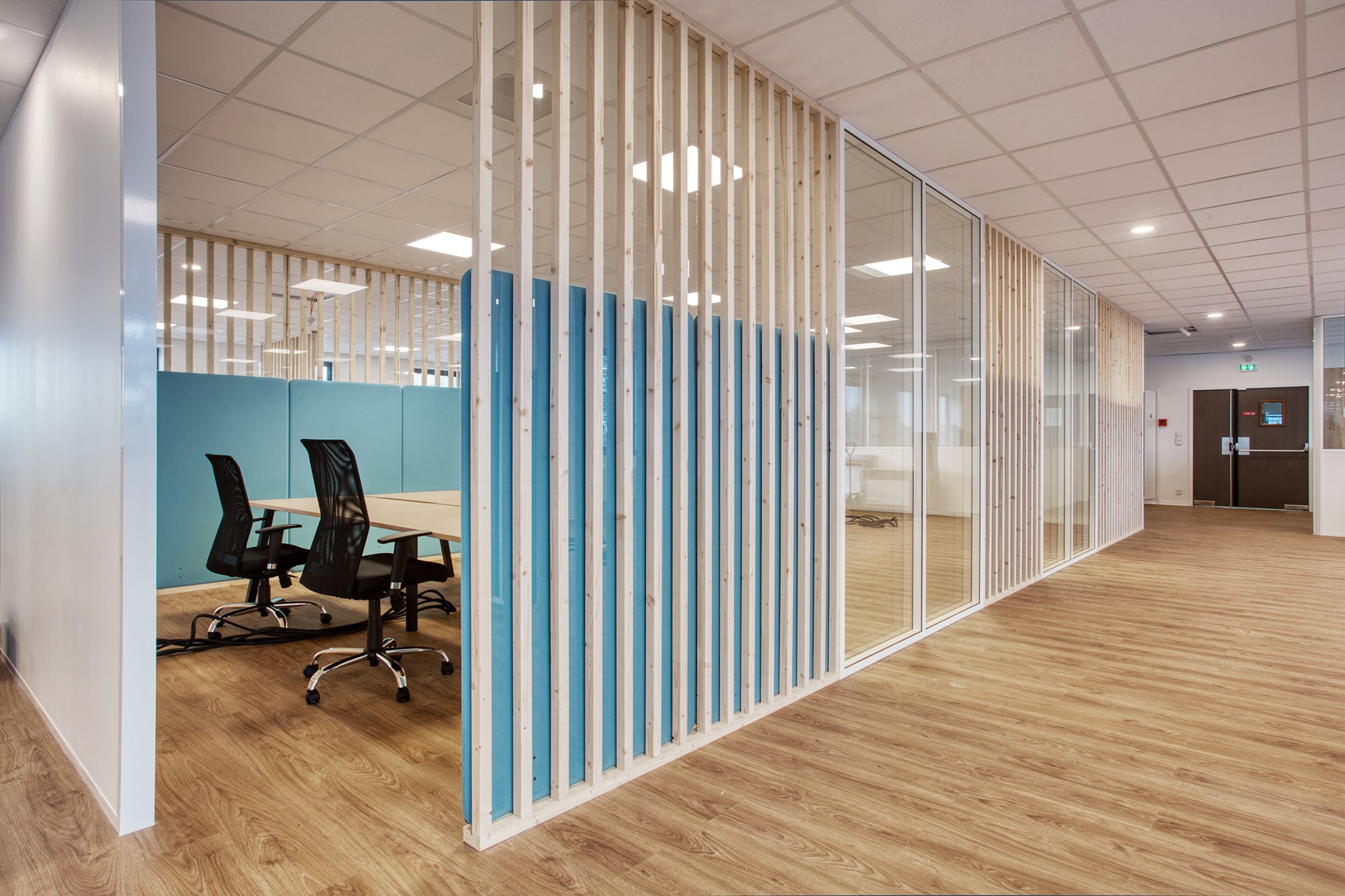 Full height glass partition
The glass partition is the most popular solution in companies, as its quick installation makes it an affordable solution to the need to create that special atmosphere of glass partitions.
The sound insulation of this type of glass wall is very popular thanks to the joint covers.
This solution also makes it possible to create glass cube-type spaces, or any other entirely customised glass partition. The price is also interesting.
Half-height workshop-type glass partition
Increasingly requested by clients and architects to create designer offices, the workshop type glass partition is a partition used for meeting rooms or cafeteria areas.
This semi-glazed partition on a spandrel gives a very designer look to the work environment without increasing the price of your partitioning too much. Perfect for artist's studios.
Our advice
At Isospace, we believe that the glass partition allows you to transmit transparency values to your teams.
The advantages of a glass partition
The main advantage of glass walls is the atmosphere created by the diffusion of light andnatural light in the office, which contributes to the well-being of the employees.
This type of partitioning is also a decorative element in its own right, allowing many possibilities in terms of finishes.
It can also reinforce the corporate culture by suggesting that the company is transparent as it will help to create structured and open spaces.
Finally, the glass wall allows for better internal communication.
Our teams take care of the installation of your glass partitions from A to Z
Our teams deliver and install your glass partitions quickly and discreetly in empty or occupied premises.
Our experience of more than 20 years in this field allows us to offer you a careful and quality work, with the best prices (direct purchase from factories thanks to our purchasing department).
Our interior designers customise your partitions
Our glass partitions can be customised with blinds (integrated or not in the partition), glazing, decorative films and functional signs, coloured frames, frosting and sandblasting.
Our interior designers can offer you different atmospheres that integrate your brand's graphic and colour universe.
Whether your goal is to decorate or to ensure privacy, our solutions will meet your needs.
Our latest achievements
Our teams can assist you in partitioning your space with glass partitions but also in theoverall layout of your offices if you wish.