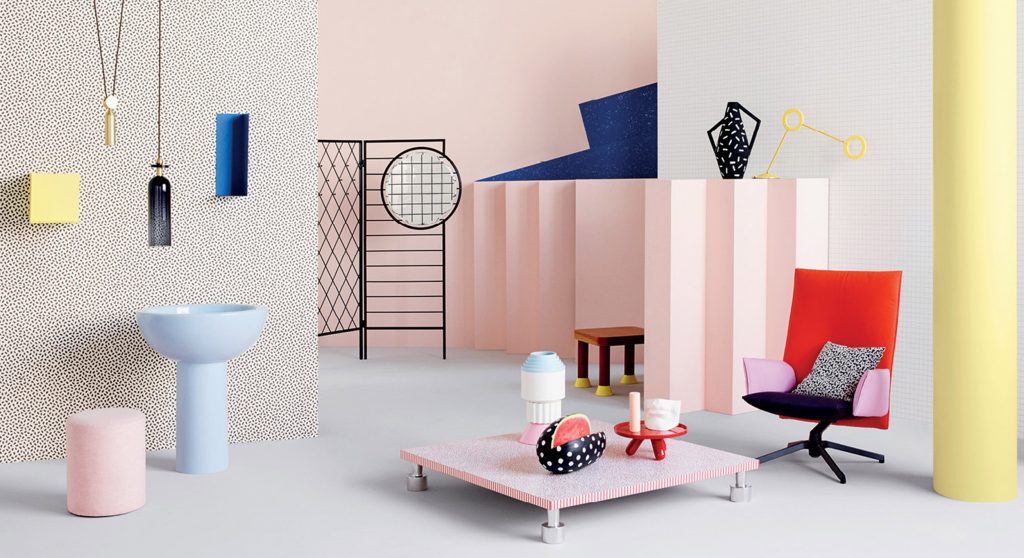 Born in the 1980s, the Neo Memphis trend is making a comeback in the world of interior design. A flashback in the history of design is necessary to understand the codes of this style.
ISOSPACE brings you this colourful trend! Get out your pens, we tell you everything!  
What is the Neo Memphis style?
The Neo Memphis style is a type of decoration that was all the rage in the 1980s. Today, it is making a comeback, riding the wave of " trendy decoration ". This trend is characterised by a festival of colours coupled with various original combinations and shapes.
A "Memphis" decoration can be recognized by unexpected combinations, offering a design effect. This decoration is based on an explosion of colours, accompanied by explosive materials and disparate shapes, the watchword being " originality ".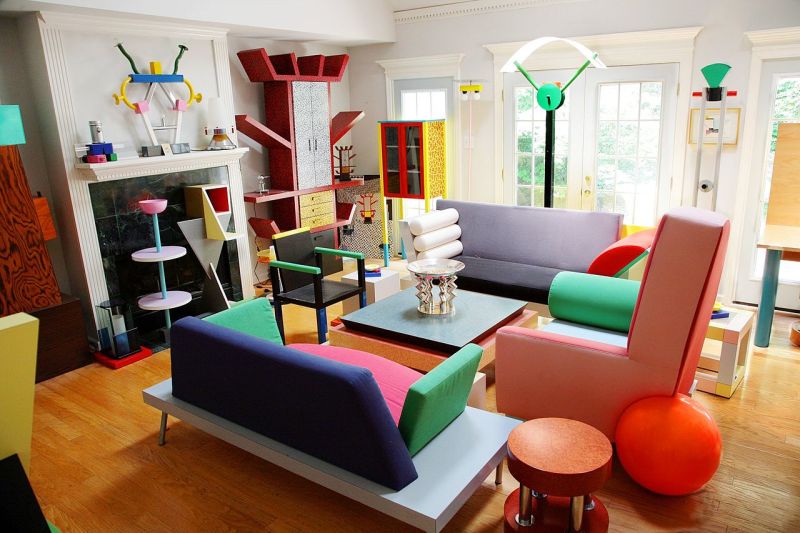 The history of this trend, or the birth of the Memphis group
The Memphis movement was the brainchild of Italian designer Ettore Sottsass, who had a penchant for pop art, and its members, who were creators, designers and architects.
At the beginning of the 1980s, the designer wanted to bring a little dynamism to Italian design, which he found a little too rigid, too wise. This is how he founded the "Memphis group" and unveiled their first "colourful" furniture in 1981.
From 1981 to 1988, Memphis exhibited in major international cities such as London, Düsseldorf, Milan, Los Angeles, New York, Paris, Tokyo and Stockholm.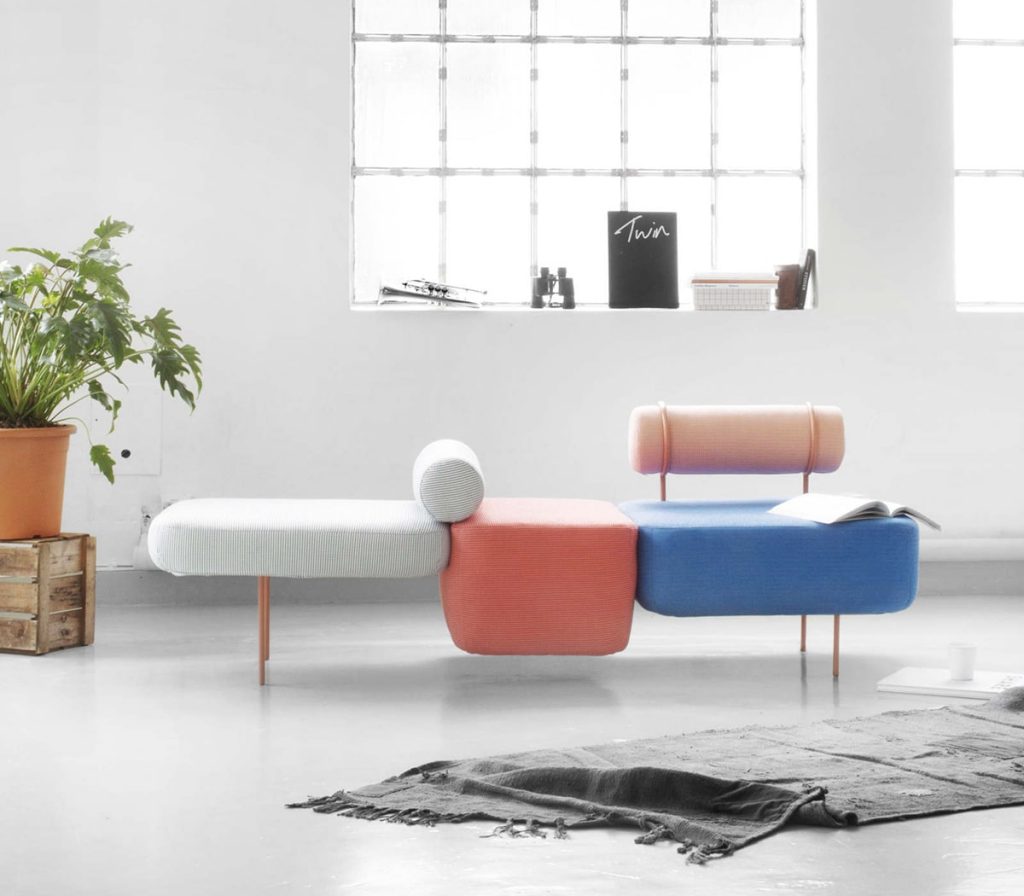 Interior design according to Neo Memphis
The trend launched by Ettore Sottsass is now making a strong comeback. We find the codes of the Neo Memphis style which advocates abundance and the unusual. Materials, colours and shapes are combined in an incongruous way.
An amazing furniture
Thus, wood mixes with glass, stripes with polka dots, geometrical shapes play with curves...
All colour combinations are welcome: you can even find more than four tones on the same object!
In addition, laminate is used extensively for furniture and more generally, new shapes are found in furniture, lighting or table elements.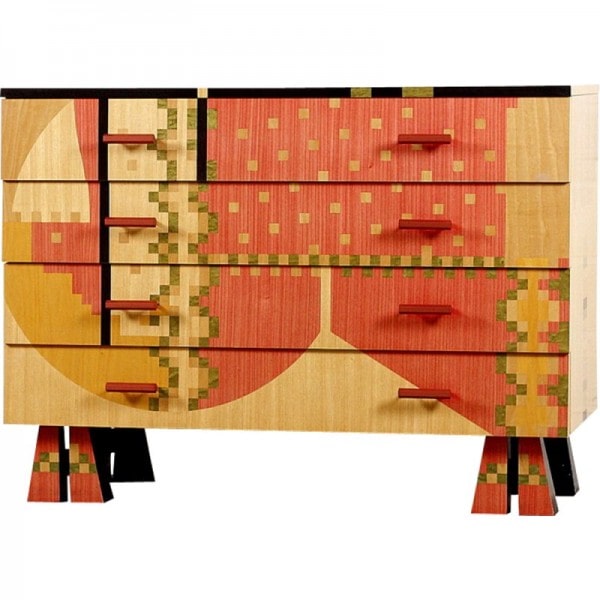 A crazy geometry
Rhombuses, cylinders, circles, triangles and other geometrical shapes are used in an asymmetrical way to provoke a sensation of chaos, total destructuring.
To all of this must be added patterns that combine fine and straight lines... Neo Memphis has only one rule: no rules.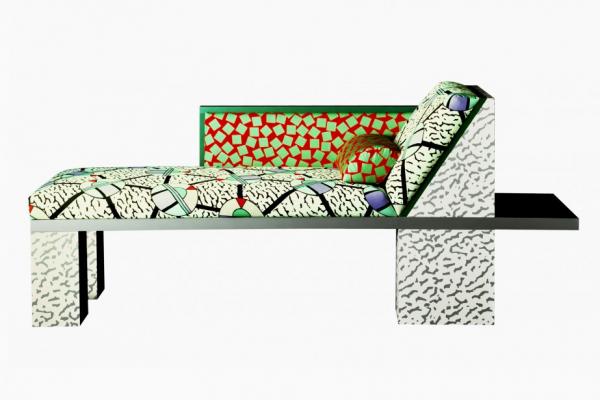 A real cocktail of colour
Orange, red, blue, yellow, green... the colours are as garish as possible. One of the missions of the Memphis group is to provoke emotions.
With its impossible mix of strong and strident colours, it creates a visual experience that never goes unnoticed.
If the combinations of patterns and colours are rather unexpected, the result brings a touch of dynamism and energy enhanced by the use of geometric patterns.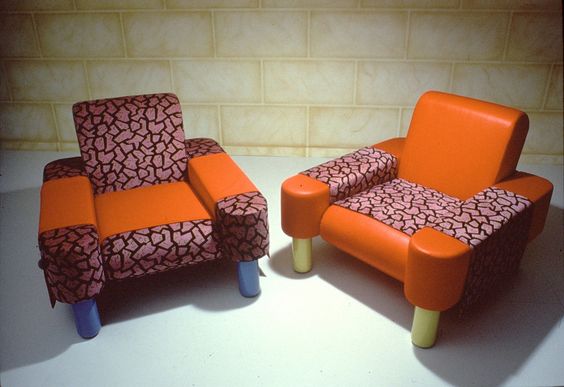 Colourful , unstructured prints can be found everywhere: on household linen (e.g. patterned sheets, placemats), chairs and stools as well as sofas, lamps, cushions, furniture, shelves, but also on tiles and wallpaper.
Neo Memphis style brought to the office
Now you're probably wondering how to design your office in the Neo Memphis style? We'll guide you!
As you can see, in three words this trend is all about colour, graphic patterns and a wide range of materials.
The key word is play with colours! Vary the pleasures by mixing materials and colours.
Mix and match designs and colours of versatile designer meeting chairs for your office.
Embellish your spaces with different types of coloured seats, cocoon armchairs or ergonomic design armchairs or contemporary design round poufs.
Add design trinkets to dress up your desks and shelves. As for lighting and wall lamps, let yourself be tempted by the craziest designs! Be daring!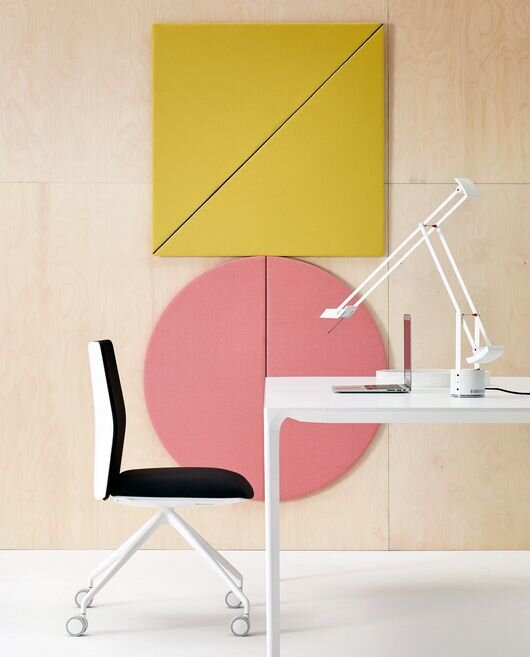 If you have a seating area, choose a brightly coloured acoustic design sofa If you have a resting area, opt for a brightly coloured sofa with several cushions in different shapes and colours.
Don't hesitate to use stickers or adhesives , posters with patterns or messages, or with geometric shapes, or even graphic wallpaper, on your walls.
For the more experienced, we advise you to repaint your walls, or at least a section of them, in a bright and vivid colour, for example, why not "Klein blue", a timeless colour, or "classic blue", the pantone of the year 2020?
Dress your floors with graphic rugs and opt for shelves of different materials, for example mix a large metal shelf with a painted wooden one.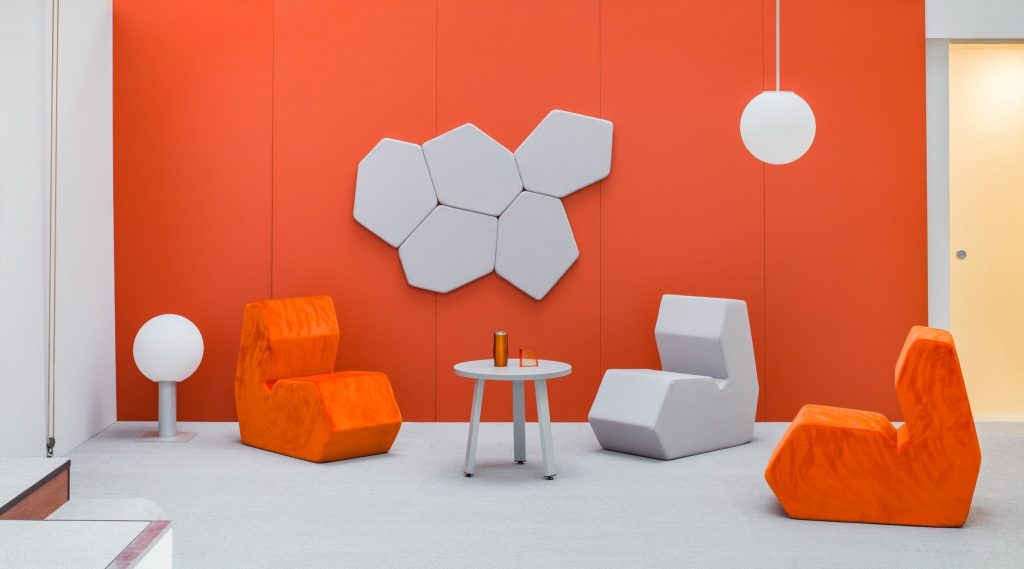 Ultimately, a Memphis-style decoration is perfect for those who want to add a touch of originality to their decor. Now you know all about Neo Memphis design. Are you convinced? Do you want to redesign your premises in this style? Go for it!
Need support?
Isospace accompanies you in the elaboration of a colourful concept which resembles you, but also in the work, the installation and the decoration of your wooden work spaces!