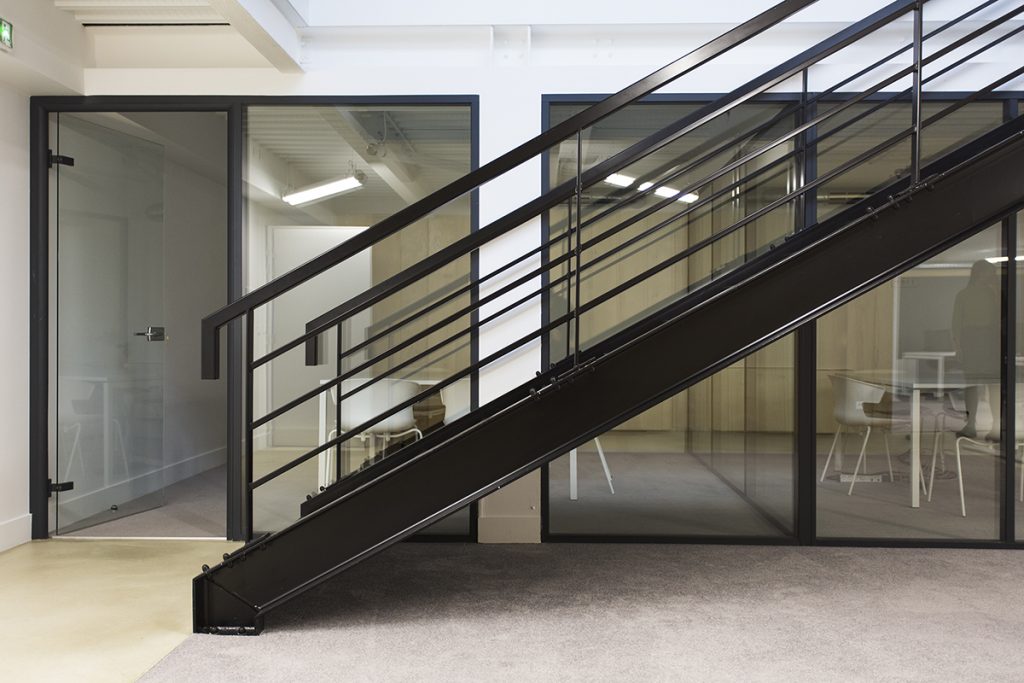 Partitions are an integral part of the office environment. Whether you are moving into new premises, or if you want to rethink your workspace, partitioning is an appropriate solution to your needs.
However, it is sometimes difficult to find your way through all the choices available to you: fixed, mobile, removable, glass-like partitions, etc.
Don't worry, we're here to help you, that's our job.
Check out our comprehensive guide to office partitions so you can master the subject at your fingertips and make the right choices to suit your needs.
The different types of office partitions
Removable office partitions
Movable partitions, as the name suggests, are partitions that offer a great deal of freedom in the partitioning of your offices.
These separations have several advantages:
⦁ Quick installation
⦁ Resistance
⦁ Insulation
Modular, the movable partitions have an aluminium structure screwed to the floor, walls and ceiling without distorting the structure of the building.
Mobile office partitions: modularity and flexibility
The use of movable partitions is useful when you need a system to quickly partition and decompartmentalise a space.
The modularity of this system makes it easy to adapt the size and layout of the reception or work areas.
You can opt for acoustic panels if you want to have optimal sound performance.
Open space partitions
It is rare today for a company not to have some of these open-plan workspaces.
A collective work space par excellence for stimulating creativity and team productivity, it is sometimes useful to be able to concentrate and isolate oneself from ambient noise.
For this purpose, you can opt for open space dividers.
The different finishes of office partitions
Once you have decided on the type of partition you wish to install in your office to best suit your needs, you can choose between several possible finishes (materials, colours, filling, etc.) which you can discover below:
Solid partitions
Solid partitions are usually filled with rock wool or glass wool, which have thermal and sound insulation properties, and a covering of your choice.
A solid office partition allows you to create and delimit distinct spaces quickly while having total confidentiality and isolation.
A solid wall allows for a great deal of freedom in terms of the finish in terms of colours and materials, with laminate, melamine or glued vinyl. You can, for example, opt for a wooden covering and even colours to bring a warm touch.
Glass partitions
The main advantage of glazed partitions is that they allow the diffusion of light and create an elegant atmosphere. There are several types of glazing, both single and double glazed:
The full height glass partition
This is the most popular solution for companies at the moment, as it is quick to install. The entire wall is made of glass.
The glazed partition on a sill
The glazed partition on a sill (or half-glazed) combines both a glazed and a solid part, the height of the solid part being customisable.
This partition allows you to benefit from the advantages of glass while maintaining a degree of confidentiality and tranquillity.
The edge-to-edge glass partition
The alternative solution to the full-height glass partition, the edge-to-edge partition offers even more clarity because the glass panes are joined by a translucent connecting cord.
Finishing and decorating glass partitions
Glass is a material that can be processed in many ways depending on your needs.
Depending on your wishes, the glass can be clear, frosted or decorated.
Finally, to gain privacy, the installation of window blinds is a possibility.
Wooden partitions
Wood, a noble and naturally warm material, is a wise choice to create a chic atmosphere in your premises or to highlight the natural side of this material.
The different types of wood available allow us to meet your needs in terms of aesthetics, from the lightest to the darkest wood.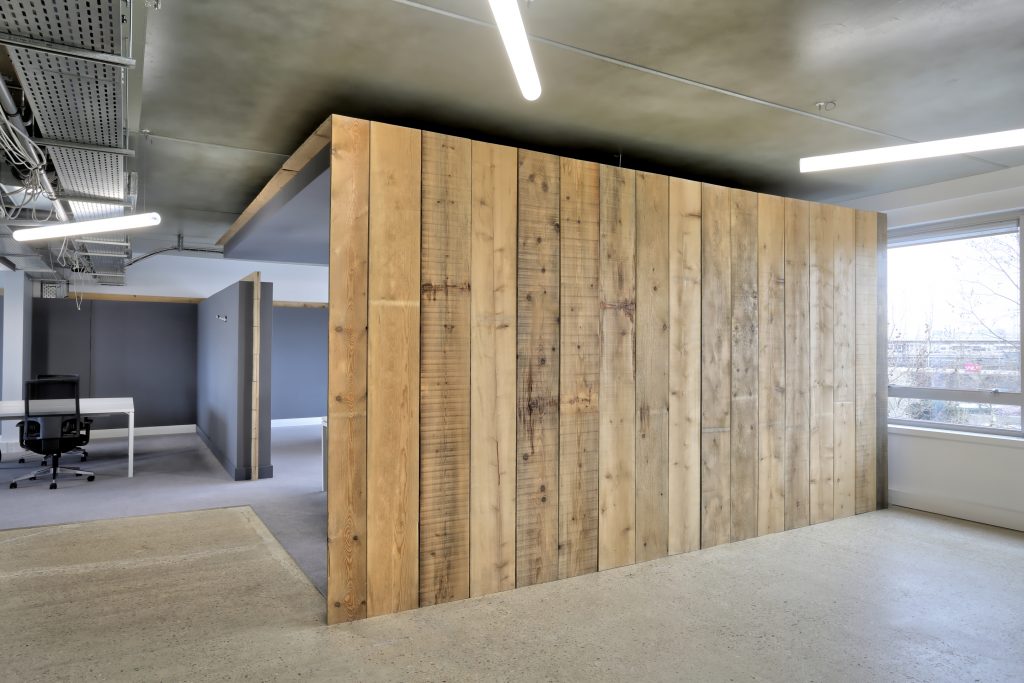 A partitioning solution for every need
As you can see, there are many possible partitioning options. In fact, depending on your needs and expectations, we will offer you the most suitable solutions for your projects.
You can contact our experts by clicking here.