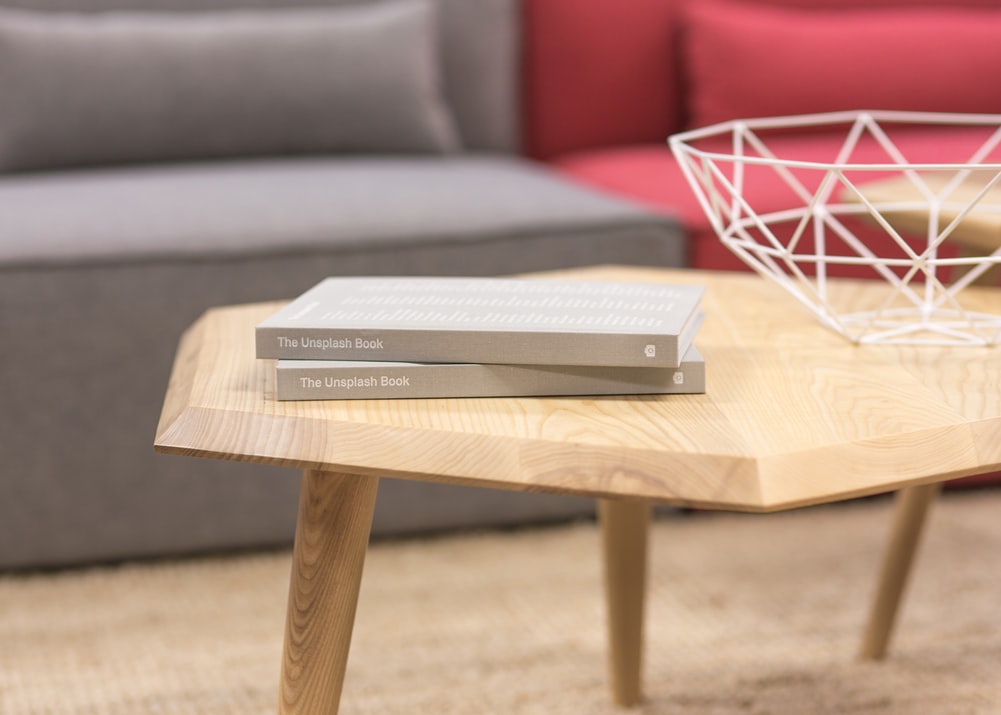 We all have the image of the old-fashioned carpeting that covered the entrance halls in the 1960s.
Today, this floor covering is back in the spotlight in new finishes.
Les motifs à fleurs ont laissé la place à des aplats de couleurs tendances. Résultat, la moquette à usage professionnel s'impose à nouveau dans les espaces de travail.
Focus on an office floor that is modernised and perfectly suited to the open space or meeting room!
What are the benefits of carpeting in offices?
The first thing that comes to mind when you think of carpet is the comfort and warmth it provides.
With it, cold floors are a thing of the past, and a cosy, comfortable environment is now possible. But beyond its comfort aspect, carpet has other arguments!
The new carpets - whether they are made of natural fibres, plant fibres or synthetic fibres - are easy to care for.
Stain resistant, they look great again after a quick vacuuming and shampooing.
Another undeniable advantage of carpeting? Its ability to soundproof and improve acoustics! Perfect for the professional environment.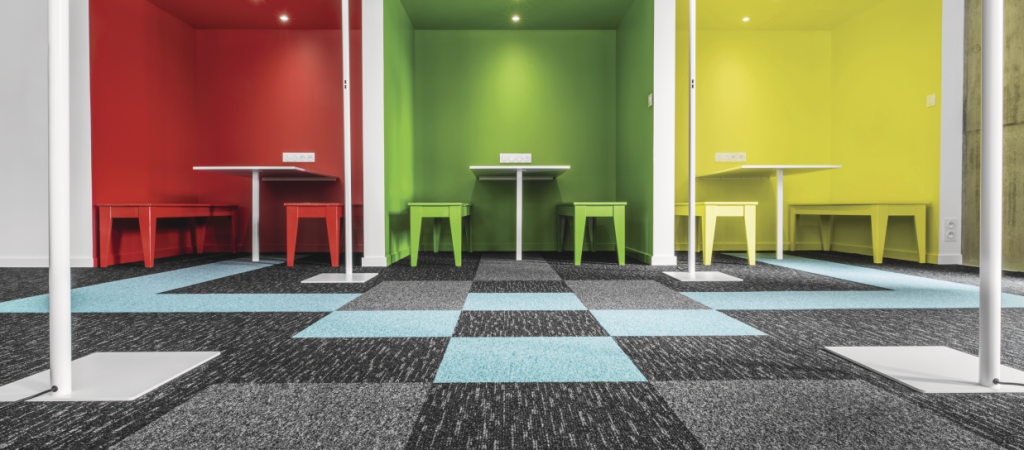 Très pratique en appartement, ce revêtement s'avère performant pour estomper les bruits de pas (contrairement au parquet par exemple) et participer à l'isolation phonique globale du lieu.
Et quand on sait que le bruit fait partie du quotidien dans un bureau, surtout en open space, la moquette est sans doute la solution la plus efficace pour pallier à ce problème. En effet, les talons sur le sol, les chaises trainées et même les nuisances phoniques sont atténués.
Playing with different carpet colours can also improve signage in a space. Indeed, you can use this floor covering to mark out paths to follow or to indicate separations between two places.
Carpet is also easy to lay, especially when it is delivered as a tile.
Finally, carpet does not emit volatile organic compounds (VOCs), which preserves the air quality in your business premises.
À noter qu'il existe également une diversité de gamme – tant par les matières, les coloris et l'épaisseur – qui permet de choisir la moquette en fonction de ses envies et de ses besoins.
Résultat, ce revêtement est idéal pour créer une ambiance harmonieuse avec les autres éléments décoratifs du bureau.
What are its disadvantages?
L'inconvénient majeur avec la moquette est sa difficulté de nettoyage. En effet, une tâche de café ruine dans la plupart des cas la partie de moquette affectée.
D'où, la nécessité de garder toujours quelques produits en plus dans le but de remplacer la partie abimée.
Pour le lieu de restauration comme un aménagement de cuisine dans vos bureaux, on privilégiera par exemple plutôt un revêtement en PVC.
In which office spaces can carpeting be used?
Carpet tiles are widely used in offices. Available in various colours, they have the advantage of being repositionable and therefore facilitateaccess to the technical floor if there is one.
Their acoustic properties can be enhanced by adding an underlay!
Certaines appelées dalles plombantes sont posées avec un adhésif appelé « colle poissée » permettant de les installer directement sur le sol du bureau.
Celles-ci sont particulièrement intéressantes dans les salles de travail et les espaces en open space. On peut aussi choisir cette dalle plombante pour habiller le sol d'un bureau individuel.
But be careful with the choice of colour! To avoid darkening the room too much, we prefer light and soft shades that give a feeling of serenity.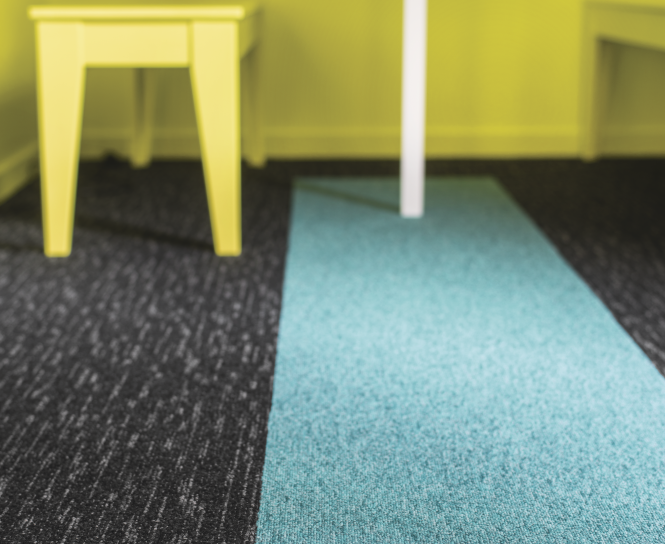 Il existe aussi de la moquette en lé. Celle-ci est souvent utilisée dans l'univers de l'hôtellerie, de la restauration et des boutiques de luxes.
Son atout majeur ? Offrir un large choix de coloris et de motifs. Toutefois, elle nécessite un entretien particulier et l'utilisation de produits spécifiques pour conserver l'éclat des couleurs !
How to choose carpeting for your office?
In order to choose the floor covering, the space must first be defined.
The floor of a meeting room does not have the same characteristics as an open space or a corridor.
Prenez par exemple l'accueil, c'est une zone qui permet de véhiculer l'image et les valeurs de votre entreprise.
Il est donc primordial de choisir une moquette qui soit à la fois esthétique, design, résistante et durable. Vous pouvez d'ailleurs choisir des motifs qui reprennent le logo ou les couleurs de votre marque !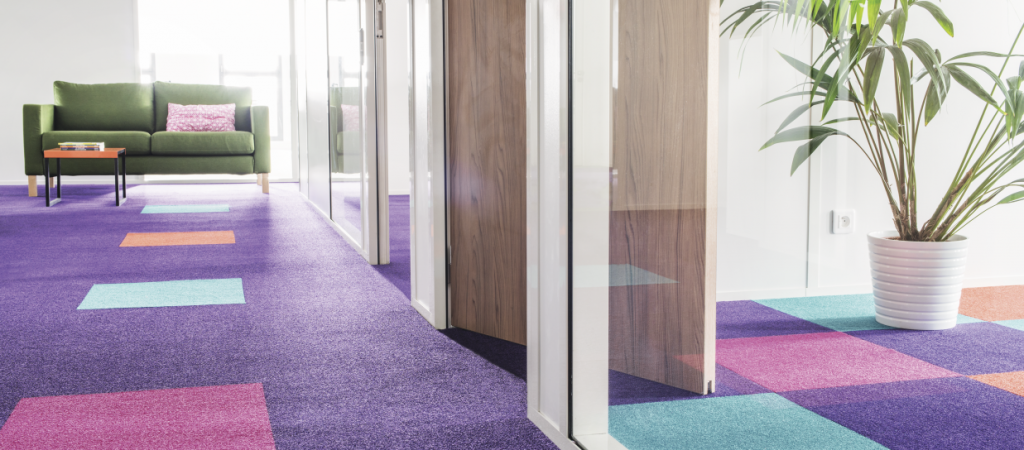 For other areas where people pass through, such as entrances or corridors, it is also important to choose a solid covering that is resistant to daily wear and tear.
Les espaces de réunion sont également des zones bien spécifiques qui doivent être à la fois esthétiques et relaxantes.
Pour cela, nous vous conseillons de choisir un revêtement confortable doté d'excellentes propriétés acoustiques. Optez par exemple pour des dalles de moquette dans des tons neutres et vibrants qui sont faciles à entretenir.
Our tip for keeping your decor looking great? Choose a light-coloured carpet. Why? Because darker colours tend to bring out crumbs and dust and fade in the sunlight.
Patterned floors are also preferable as they are more effective at hiding small stains.
Major trends among carpet manufacturers
Véritable atout déco, la moquette ne cesse de se moderniser. Couleurs, formats, motifs, épaisseurs… Elle se décline désormais à l'infini pour créer une ambiance chaleureuse dans les espaces de travail.
La grande tendance actuelle ? Les moquettes avec effets de matière et contrastes entre le mat et le brillant.
They look great in entrance halls and colours, especially when they are deep colours like sandstone or slate.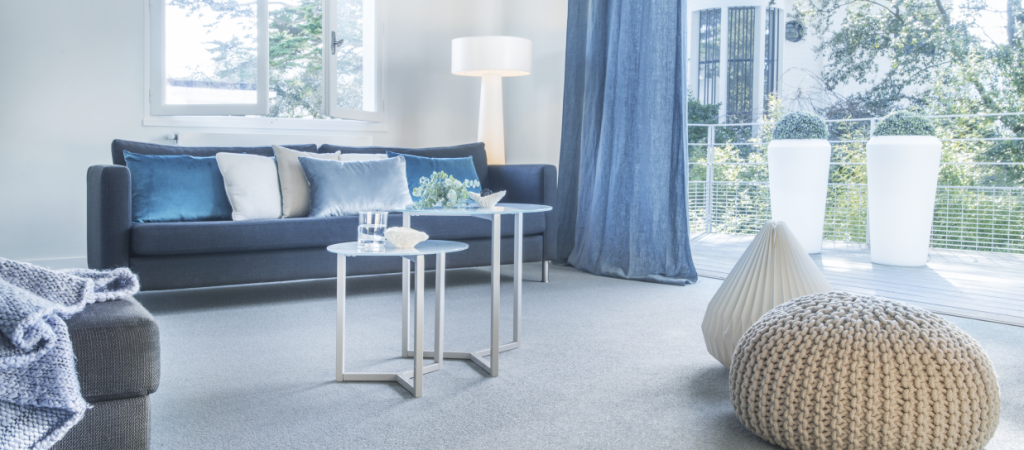 We also love carpets that dare to be graphic! Inspired by art deco or Mondrian-style abstraction, these carpets are perfect for brightening up a meeting room or a space dedicated to conferences.
Dans un autre style, certains espaces de travail affichent une ambiance pop' avec des dalles qui alternent entre couleurs vives et naturelles. Orange, jaune ou rouge… Ces teintes permettent d'apporter de la lumière dans les espaces communs !
Les tissages traditionnels africains sont également revisités pour habiller les espaces tertiaires. Marron écorce, beige granit ou gris silex… Ces couleurs font entrer la nature dans l'open space.
The other major trend is to focus on sustainable materials. Indeed, even in the world of carpeting, there is a growing focus on reducing energy consumption.
How can you be eco-responsible with this flooring? By reusing tiles that are not damaged and adding new tiles of better quality. An effective and less expensive way to give a fresh look to work spaces, while limiting the environmental impact!
L'autre solution : se tourner vers des moquettes exclusivement fabriquée à partir de matériaux recyclés !
Need a company to supply and install your carpet?
Isospace offers you its know-how by proposing a selection of trendy carpets at all prices (samples can be sent). Contact us now for a free estimate.